NOW OPEN!
Call or visit for take-out, delivery or enjoy a bite to eat on our patio.
Opening April 30, 2021!
We will be open for patio, take out or delivery orders starting on April 30, 2021
22354 Talbot Line,
New Glasgow. Ontario. N0L 2M0
email us: tab.eatery@gmail.com
give us a call: (519) 702-2483
Delivery available:
Friday until 7pm to Sunday 7pm, minimum 30$ order.
$10 fee within 10km, $20 within 20km, $25 within 25km.

Hello there, welcome to our world! We are Take A Bite, a small food truck turned restaurant ready to feed a big appetite! With the help of our experienced team, we are able to create just about anything, from authentic low and slow smoked BBQ and Hand battered fish & chips to mouth-watering Mediterranean cuisine!
We like to call this our Lebanese-Canadian fusion. We also create delicious burgers, wraps, fries, poutine and much, much more. Visit us in Elgin County area by liking us on Facebook.
Be sure to check out our weekly Friday Fish & Chips Special!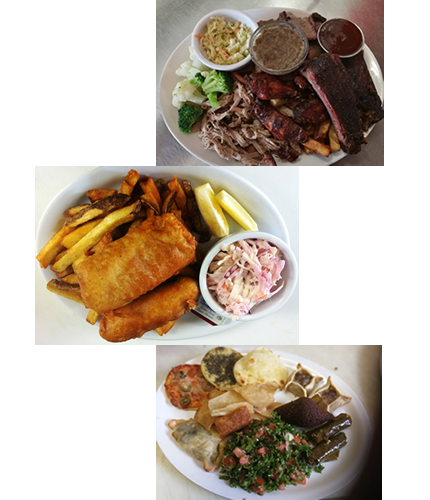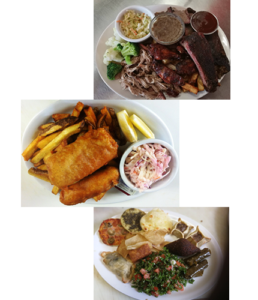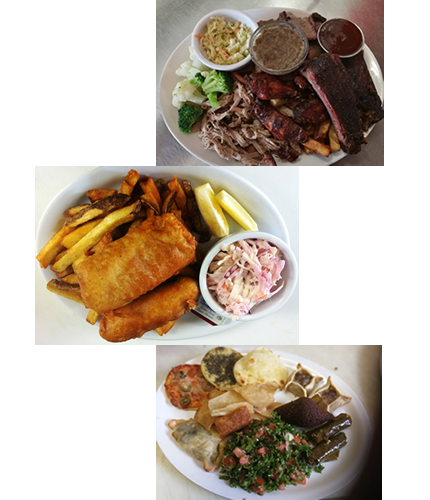 Mediterranean and Smoked BBQ
Our everyday amazing offerings are sure to satisfy your hunger, from our signature Shawarma, Falafel and Gyros to 5 oz Gourmet Burgers, you are sure to enjoy! The all-beef 7″ Hot Dogs are cooked to perfection with a multitude of toppings for you to choose from.
People come from miles around for Amal's homemade Hummus and inhouse made Pita chips.  Our fries are hand cut and fried to perfection; try them alone or with our signature Poutine offerings. If you like real BBQ then stop on by for our Smoked Brisket, Pulled Pork, Ribs or Smoked Chicken Wings.  We have been told we have "the best wings around".
We offer local Craft Beer and Ontario Wines. Enjoy the day on our outdoor patio!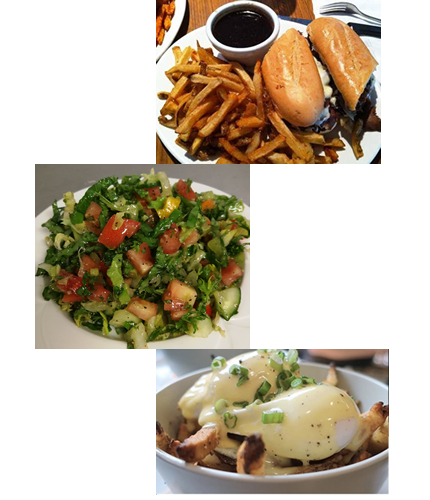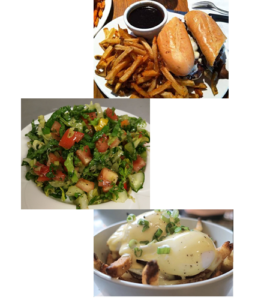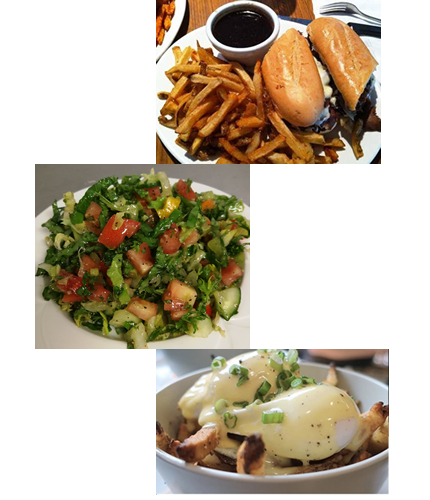 Have a seat and enjoy your food and cold beverage on one of our two licensed patios!
We also have a small convenience store onsite selling propane, firewood, bait, ice and other essentials you might need on your travels.
Check out our facebook page to see the weekday and weekend specials.
Best of Mediterranean, Low & Slow BBQ and Canadian Cuisine served in London and Elgin County
A diverse menu of fresh, simple and flavourful eats is available each summer at Take-A-Bite.
Mediterranean – Canadian Fusion Every Day
Shawarma, Gyros, Falafel, Hummus, Salads, Signature Burgers, Fusion Poutine and Wraps, Pizza and amazing Wings.
PIZZA –15 and 18 inch gourmet pizza
Hand-Battered Fish & Chips every Friday
Hand-Battered English Style Fish. Cheers!
Uncle Fej's Low & Slow Smoked BBQ Pit
Some of the meats we love to smoke are brisket, pulled pork, turkey, chicken, ribs and many more.
We have Shaw's Ice Cream.  Try our new Boozy Milkshakes
Local craft Beers and Ontario Wines available for takeout
Note:  Gluten-free options are available – please inquire.
Was very surprised by this little restaurant. Open seasonally and just opened on Friday. We had lunch there today and I got a burger and didn't realize they even have gluten-free buns gluten free pizza. That is the restaurant we will go to again. Spoke to the owner and the staff there and super friendly little country attitude it's wonderful.
Best Friends RVing-Sailing (Google Review)
Fantastic food! Lebanese & Canadian food …great gyros, delicious shawarma, melt in your mouth bbq brisket! I even tried their breakfast & got the best omelette I've ever had in my life. Don't let the little road side diner thing fool you… this woman can cook!!
Dean Sloss (Google Review)
Friendly owners and staff. Excellent food at very reasonable prices. Nice combination of Middle Eastern and North American food on the menu. Great made on site tarts! (To die for!)
Jim Humphrey (Google Review)
Owners Jeff & Amal are very friendly. Restaurant is bright, airy & very colorful. Food is good & made by Amal. In a very small village, restaurant is seasonal.
Richard Carter (Google Review)
The patio is the best place to enjoy what the restaurant offers. Service very professional and good food. The bathrooms are the neatest of many restaurants I've been. Desserts are like homemade and delicious.
Esmeralda Franco-Mansilla (Google Review)